Snovej Circle 6/2015: East to east
Jetlaggged! Seriously jetlagged! That's what happens when you travel eastward. Last week I said goodbye to my family, and the palm trees and sunshine in Florida, and traveled east to my family, and a white winter wonderland, in Finland. And to my craft room with its awesome stash!
The first part of the trip took me to the airport in Oslo, Norway. There I had to wait almost 8 hours to board the next flight. It was lunchtime, but for me it was early morning and I hadn't slept all night. I needed action to stay awake! As I was looking for the exit, I overheard a man talk to the attendant at Lost & Found. He was going to leave his bags there for the day! I promptly turned and waited for my turn. For a small fee I left my carry-on and heavy laptop bag in safe hands and made my way to the train that would take me to Oslo.
Brrr! Snow and cold! Good thing I had dressed accordingly. Besides being at the airport several times, I've only paid a brief visit to Oslo a long time ago. The only thing I knew about it was what I've seen in videos of Ylvis' TV show (the Fox song guys!). Therefore I knew there were at least one pedestrian street with lots of shops. After walking around for an hour or so, I finally found a place indoors to sit down, have lunch, and study my map and guide book. I laughed when I realized I had taken a wrong turn from the train station, and that the street I was looking for was just across the street from there, and that the cafeteria I was sitting in now was next to this street. It's called Karl Johans Gate. There was no need to walk up and down on cold, windy streets. But I did see some awesome old buildings!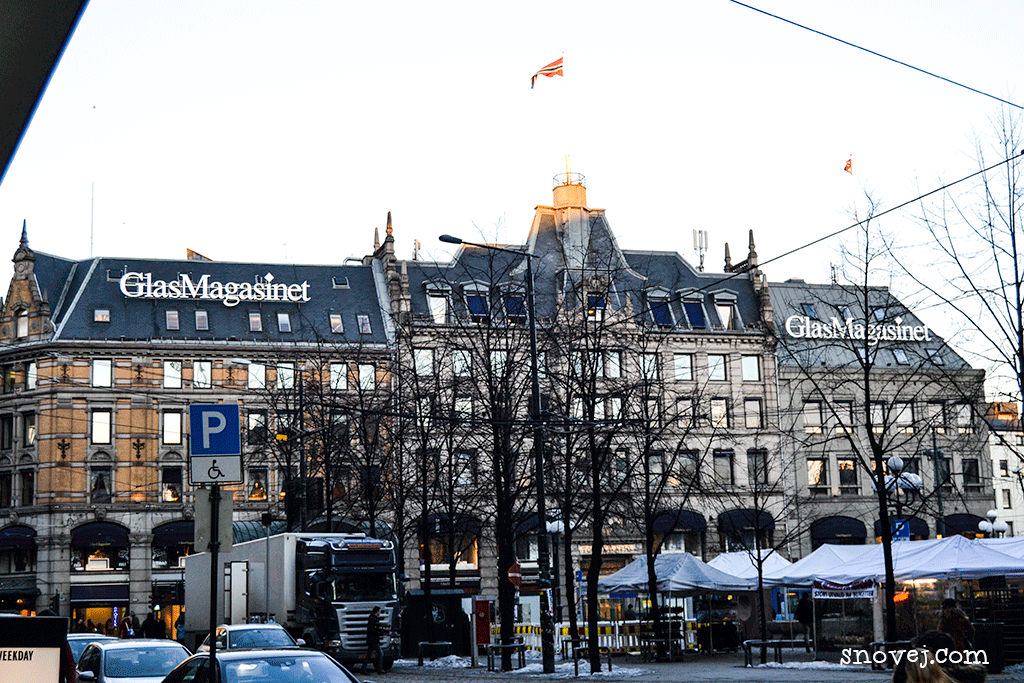 I looked into several stores and took photos of everything interesting. I especially like designs, patterns, and details on buildings. On my way back to the train station I found the store I had been looking for. It's GlasMagasinet, a big building full of small, independent shops on all levels reminiscent of a small-scale mall.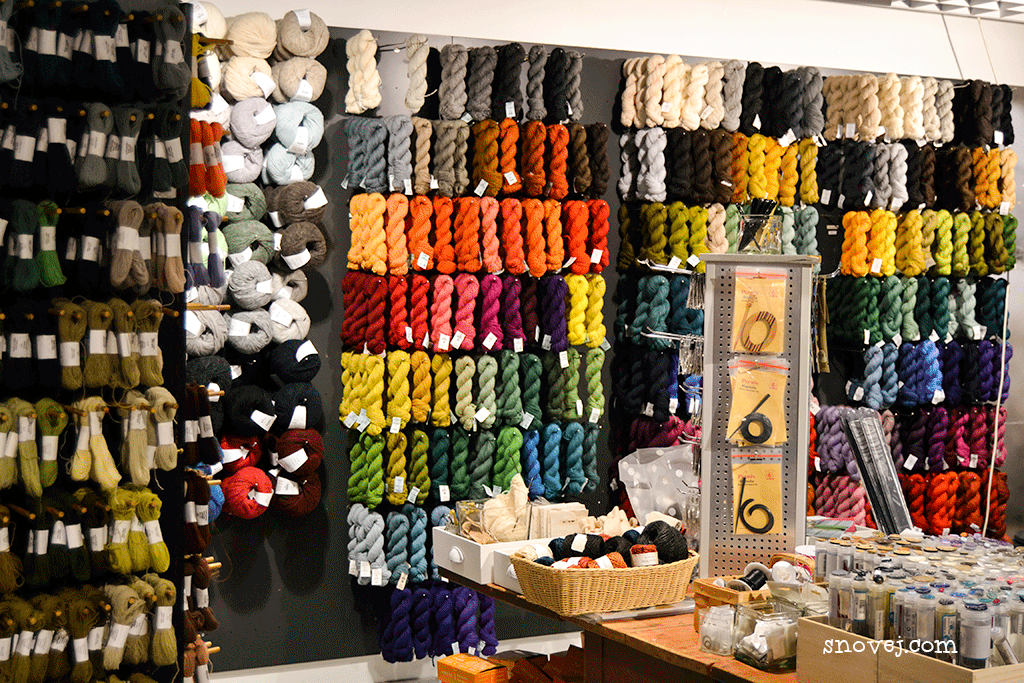 Downstairs I found a gem! It's a shop called Den Norske Husfliden. It has a huge selection of wool yarns from well known Norwegian suppliers. And lots of other materials and supplies for arts and crafts. Just look at the colors of those soft wool yarns! The photo shows only a small selection of all the varieties they have. So many yarns! But I was good! I behaved and only bought some cotton embroidery yarn; see the photo on top. It's made in Denmark by Dansk Blomstergarn (Danish Flower Thread) and comes in many colors. It's similar to a lightweight lace thread, but softer. I have no idea what I'll do with the yarn, I bought the skeins as souvenirs. Eventually I'll need them for something, and now that I know about the yarn I can order more online! I like the look of this yarn so much more than the normal 6-strand floss.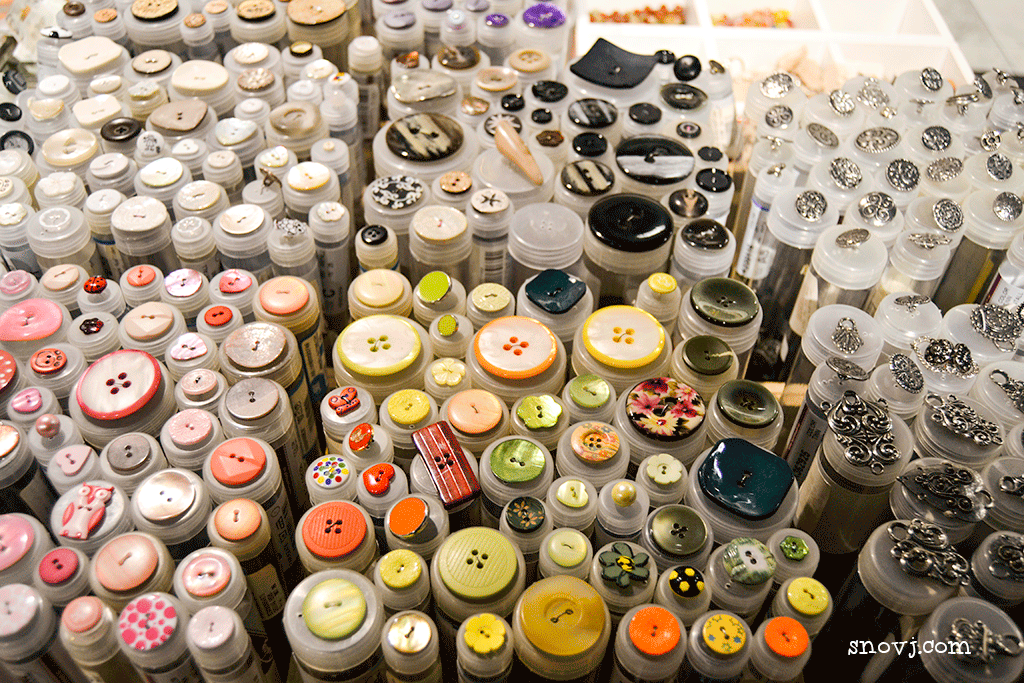 There were also lots of buttons! I like the way buttons are sold in Europe. In tubes, with one button fastened on top. You buy as many buttons as you need. I chose some traditional Norwegian pewter buttons. You often see them on Norwegian sweaters. I don't know yet how I'll use them. I just love the look, the feel, and the patterns on them! See the photo on top!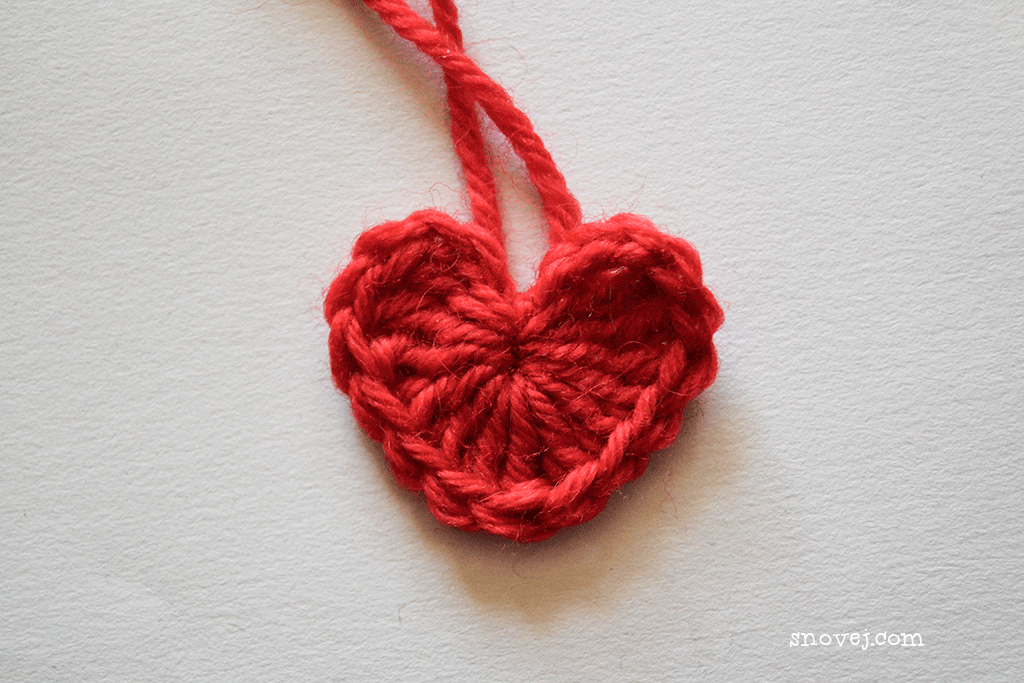 Before I started my trip from east to east, I decided to leave behind a trail of crocheted hearts. The first one I attached to the wall of the shuttle taking me from the terminal to the gate in Orlando, Florida. In all, I taped 10 hearts along the way. I didn't take any photos. It might have been too suspicious behavior at an airport or in a plane!
I used double-sided tape to discreetly attach the hearts when I walked by suitable places. The hearts (1 1/2″, 4 cm wide) were made with a hook size 3.5 mm and worsted weight, red wool yarn I had brought from Finland last fall. My intention had been to crochet red lobsters while I was in Maine, but it didn't happen. Maybe I'll make crayfish with the rest of it here in Finland!
The pattern for this heart is here!
Have you checked my other heart related posts?
In other news, I have a new laptop. My jetlagged brain has been busy trying to get it in working order and downloading stuff I need for this blog and my patterns. My son-in-law copied the old one's hard drive so I have all my tutorial photos saved. Watch for new patterns here and on Ravelry/Etsy!
On Valentine's Day  Kal and I will go on a cruise to Stockholm. We'll visit a two-day craft fair, Syfestivalen. I'll give you a full report of my findings next week!
Happy Valentine's Day!
~ Marina