Keys to My Heart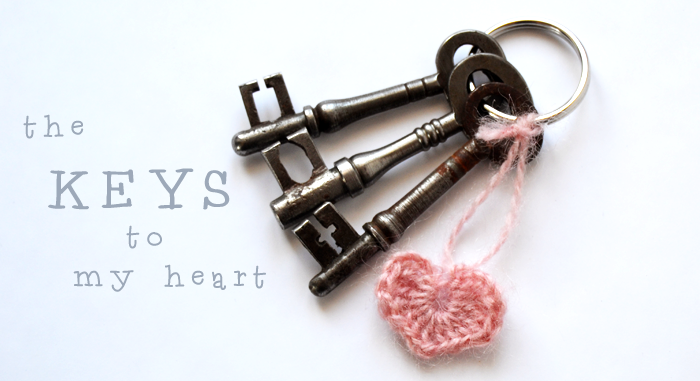 Valentine's Day is a lot more than just a pile of greeting cards. It's a happy, fuzzy holiday all about appreciating the ones we love. But don't let it fool you, heart and love related crafts are appropriate year round.
Here are quick and easy instructions to make some of my favorite heart crafts: a paper garland, a crochet heart, and a little puffy heart. You can make these with scrap materials and stuff from around the house!
Paper Heart Garland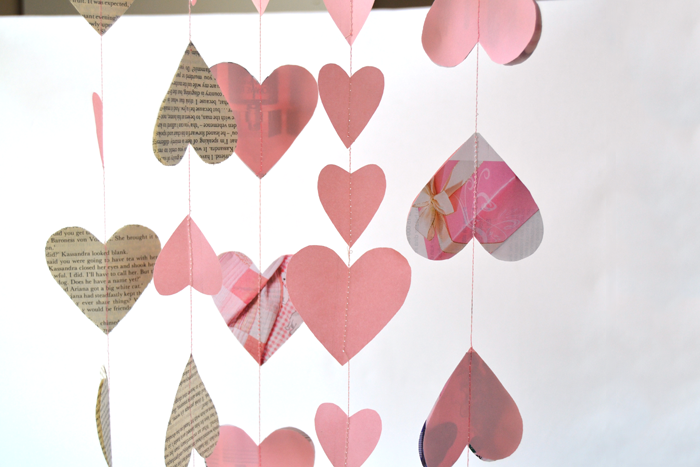 Decorate your home with a pretty heart garland made of paper and thread. You can use any paper, like scrap-booking paper, copy paper, craft paper, paper that you've drawn on or pages from books, magazines and catalogs. You can decorate the hearts with distress ink or glitter or stamp them. I used pink copy paper, and pages from a romance novel and a magazine.
After you've chosen your paper you need to cut the hearts. If you have a die cutting device, use that. If not, start by choosing your heart shape and size. You can mix sizes as I did. You can use ready-made heart shapes or you can draw your own.
The easiest way to get a perfect symmetrical heart is to fold a paper in half and draw half a heart on it, cut it and open up the fold. Look at the top of the photo below for an example.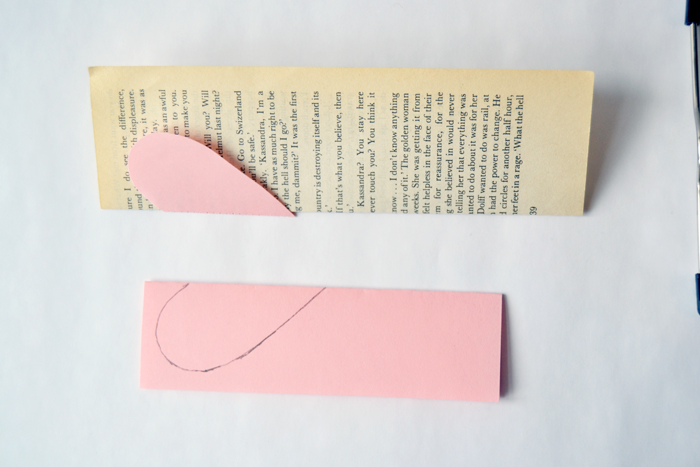 When you have your heart template you can either trace around it for every heart you want to cut, or you can fold the paper in half and place the folded template over it. Look at the bottom of the photo above for an example. Hold the template firmly against the paper and cut. It's easier to start at the bottom of the heart. You can cut multiple papers at once, the amount depending on the thickness of the paper.
If you're using different papers you might want to play around with their placement. You might want to consider sewing them vertically like I did, or horizontally. Decide also how much apart you want the hearts. Then it's time to sew them together. The fastest way is to use a sewing machine but you can also stitch them by hand. Use any size needle you want and any thickness of thread/yarn.
It's more festive than you might think. So when you've made one, go and make another!
Crochet Hearts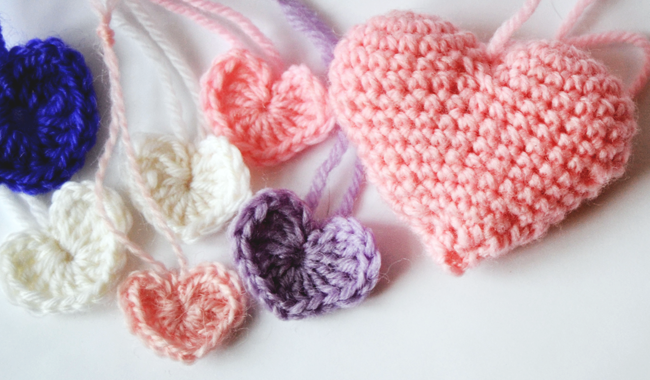 The tiny crochet hearts are quick and easy to make. It's also a great project for somebody just learning to crochet. There's many excellent tutorials on YouTube that will explain the stitches used. The pattern works for any size yarn, just use the recommended needle size for your choice.
Tiny Heart Pattern (American terminology)
Make a Magic Circle. Chain 4, and then into the circle make 3 Treble crochet, 3 Double crochet, Chain 1, 3 Double crochet, 3 Treble crochet, Chain 4, finish with a Slip stitch into the circle. Cut yarn and pull through. Pull the beginning tail to close the Magic Circle. You now have a perfect tiny heart. You can either fasten the tail ends, or knot them at the base and then knot them higher up to make a hanging loop.
Update! To make a pointier heart, make a treble instead of a chain 1 … =)
For the big puffy Amigurumi-style heart, use this excellent video tutorial. It's by Teresa Richardson, better known as Crochet Geek. She has also written instructions for this heart. I made one and everybody wants one too! It's perfect for a key chain or as a zipper pull.
Hope everyone's enjoying their Valentine's Day! Remember, hearts and love are great all year round.
Until next time,
~ Marina