Snovej Circle 7/2015: Craft Fair
Kal surprised me a while back by buying us tickets on a Valentine's Day cruise from Helsinki to Stockholm. That was not such a surprise though. We have been on many such cruises to both Stockholm and Tallinn. The big surprise was tickets to a craft fair that was held that same weekend in Stockholm …
Kal doesn't want to go shopping with me. Unless we're looking for something like a new car or a computer. Never does he come with me to look at yarns! Now he got himself a ticket to a craft fair with yarns, fabrics, pearls and beads, and all things crafty. Wow! He must have missed me a lot the past few months. Smile. He was actually the only man among a busload of women!
Going on a back and forth trip to Stockholm is called "going on a cruise". Taking the ship for a one-way trip to Stockholm is called "taking the ferry". You're actually doing both. The ship is a ferry that carries cars, buses, and trucks. But it's also a cruise ship with lots of shops (tax free!), restaurants, entertainment, sauna and spa, and cabins from luxury ones to simple bunk bed ones. See for yourself here and here! The ship leaves in late afternoon and arrives in the morning. That's perfect timing for getting onboard, getting yourself ready for a night out (sauna, spa, swimming pool!), have an awesome dinner, dance at a night club or watch a show, then sleep and have a gourmet breakfast before arriving at the port. Needless to say, we had an awesome time!
The Craft Fair Syfestivalen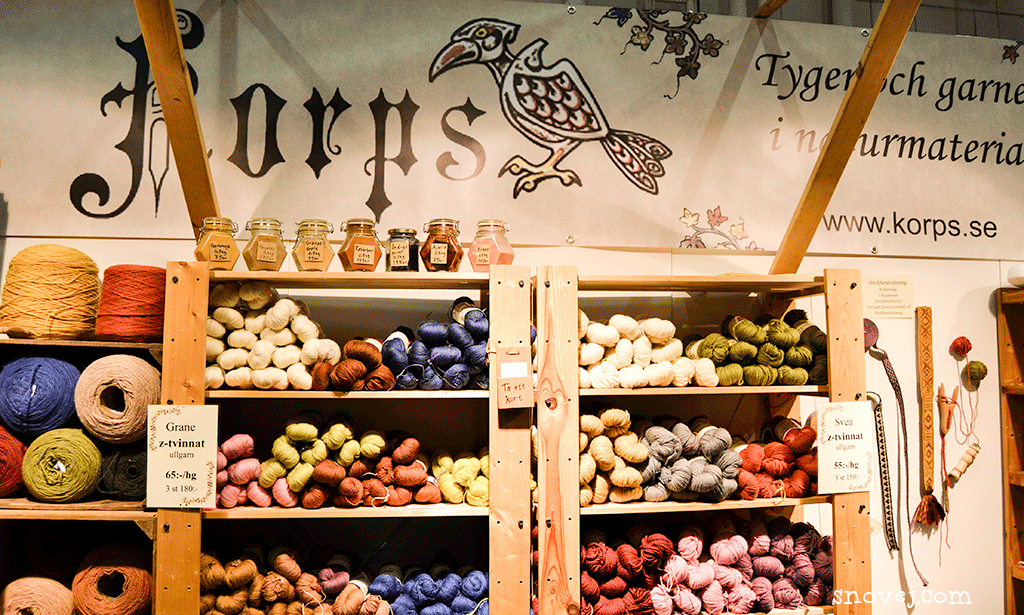 When we entered the exhibition hall where the fair Syfestivalen was held, and I saw the first booths, I felt a rush of disappointment. No, don't tell me so, I thought. What I saw was heaps of "normal commercial" yarns that I could get in any well-stocked yarn store closer to home.
So you can understand my joy and relief when I found the booth of a shop called Korps. Korps means Raven's, and they had an awesome array of wool and silk yarns, natural fabrics, amazing woven ribbons, buttons, and hand wrought iron buckles, and gadgets for all kinds of work. If you're interested in making medieval/renaissance clothing, you'll find there everything you'll need. Including awesome yarns of wool, silk, cotton, or viscose; for knitting, crochet, embroidery, bobbin lace, or for basically anything you can use yarn for.
I got myself some small skeins (25 grams) of Heidruns Ullgarn Grane 100% wool in beautiful plant dyed colors. I'll use them either for wool embroidery or freeform crochet.  I also got some thread for bobbin lace, 100% flax linen. I'll use it for embroidery! I've never tried making bobbin lace, only because I never got my hands on the gadgets needed. A friend of mine is an expert bobbin lace maker. She has even made big picture squares to be framed in!
They also had knitting spools of wood. I got one for four stitches, and one for six. I used to knit with these as a child. In those times sewing thread came on big wooden spools. I would just grab an empty one and hammer down four small nails and off I'd go making long cords. That was fun! Now I'll use these for I-cord, it'll be more fun than using knitting needles.
They also had wooden lucets! I just had to have one. They were not as pretty as some I've seen, but good enough to do the job. A lucet is a two-pronged fork, often made of wood, used for cord making. I can't wait to try it!
I mused at the "price your stuff" lists I saw at many booths. This is from Korps.
One vendor had metal parts for making three tiered cake stands. I got two sets, and the offer gave me a porcelain drill for free (in the pink bag). I'll use some vintage plates for those, and I'll tell you about it in a future post. Maybe I'll add a cup on top!
A jewelry supplier had letter stamps for metal. I liked one of the fonts and got the set. The punches in the bag are dots for making the Swedish letters å,ä,ö. The big shiny punch is a cute heart. And some metal hearts to punch letters on. I'll talk about this too later.
There were many awesome exhibits. I was glad to find more high quality yarns made by small companies. Some that made an impression on me was Sjöalyckans Silke with beautiful hand dyed silk yarns,  Atelje Huskroken with their own line of organic wool yarns, and Ullcentrum with wool yarns and felted products, as well as other products made from natural materials like linen and hemp, and Lankava, a Finnish company with lots of yarns. I liked their cotton tube yarn that comes in many colors! With that yarn you can make awesome doily carpets!
I was glad I wasn't shopping for a new sewing machine! There were so many sewing machine companies present, with so many different machines, that it would have taken me a whole day to look at them. I also saw quilting machines, which was nice since quilts in Scandinavia don't have much of the actual quilting in them. They're called "lapptäcke", which means "piece blanket". There were lots of fabrics and notions of all kinds, embroidery work of many kinds, weaving, jewelry making supplies and much more. There were many workshops that the visitors could take part of for free, or you could watch a demonstration. You could learn about Sashiko embroidery, ribbon embroidery, tatting, dyeing, bobbin lace making, quilting, scrapbooking, jewelry making, sewing, felting, knitting, crocheting and many more crafts. I only had three hours to spend there, so there was no time for a workshop.
I did like what I saw, and I was pleased with the show. I was glad to see many traditional materials and crafts. One old craft that's gaining in popularity in Scandinavia is nålebindning, a method for making a fabric by knotting yarn using a big wooden needle. I saw this at a few different booths. I've learned this technique from a lady in my Knit Bean craft group, and I will talk about it another time.
What I didn't find was something new and exciting. Maybe because I've seen so much already. The weirdest thing for me was seeing a workshop for kids to make hooked rugs with T-shirt yarn! I talked to several people about freeform crochet, but they had no idea what I was talking about …
The Flower Power Project
Now I have to finish packing my contribution to Prudence Mapstone's project. She's collecting crocheted pieces from all over the world to assemble them into one huge wall hanging. This is to commemorate the past 50 years of Flower Power. The reason for this is best explained by herself:
"It will be 50 years this coming November since the term 'Flower Power' was first coined in Berkeley, California, and used as a passive resistance slogan for non-violent protest against the Vietnam War.  By the 'summer of love' a few years later, the movement had spread; the term 'flower child' was synonymous with 'hippie', and a counterculture had sprung up embracing psychedelic music and art.  This art style is often recognizable from its simple, graphic, brightly coloured, poster-like designs; and as many flower children sought a return to basics and simple living, crafts had a resurgence, and a distinctive style of no-rules crochet sprang up as a small part of the hippie, grass roots ethos."
All you need to know about this project is here! There still might be time for you to mail a contribution. It needs to go all the way to Australia, so check with your post office if you can beat the March 8th deadline. The post office here in Finland says it'll take up to 14 weekdays for a normal  shipment, 8 weekdays for fast shipping.
UPDATE!!!
Just found out that Prudence is asking us to mail our contribution to her by March, 8th.
As long as you get a March 8th post stamp on the package, your piece will arrive in time.
Prudence is showing all of the pieces sent to her on her new website for this project. Go and gawk at all the fantastic pieces she has so far!!! Make sure you click on next posts to see them all!
Since returning to my craft room, I haven't had as much time as I wanted to play in there. I wanted to make a colorful freeform scrumble for the project, but I'm running out of time. I better get my contribution in the mail a.s.a.p. tomorrow! Instead of a scrumble, I made a crocheted peace sign, and as I was going through my stashes I found some colorful granny bunting and crocheted flowers, both big and small, and a couple of other pieces that might fit the project. I'm mailing those!
The peace sign is crocheted around a metal ring. It's about 7″/18 cm wide. For the sign, as well as all the grannies and flowers, I've used a Finnish sock yarn called 7 Brothers by Novita. It's heavier than normal sock yarn and made of 75 % wool and 25 & polyamide for strength. I've used a 4 mm hook for all these pieces.
I've made the grannies and flowers for future needs for yarn bombing. I like to make these easy and simple things while relaxing with a movie. I know, I'm multi-tasking when I should unwind. It's OK, I don't have ADD, just OCD … Obsessive Crochet Disorder!
Our Circle is growing, and more and more fun crafts are being posted there! Thanks to all members for sharing! I will also share more now that I have more material to play with …
Happy Crafting!
~ Marina