Freeform Crochet World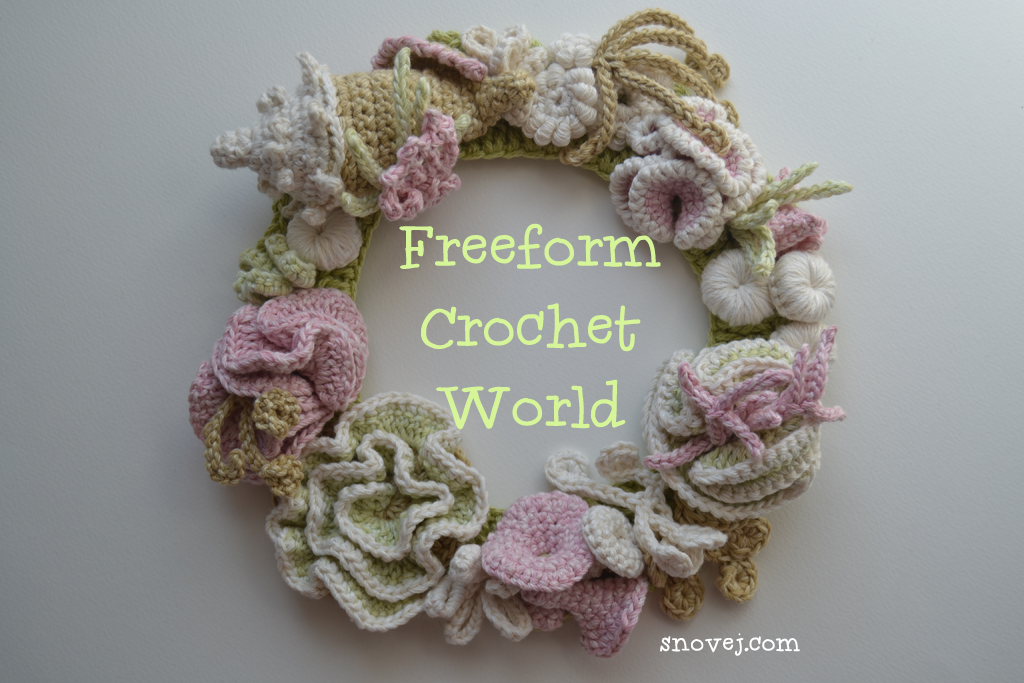 I've been searching for freeform crochet on the internet. There's a lot out there! Try searching for images, or search on Pinterest and Etsy, and you'll find lots of beautiful amazing works of art. But I wanted to interact with others. Not finding anything on Facebook, I decided to start a new page there …
The purpose of the page is to bring Freeform Crocheters together. To make a place where we can meet, greet, share and brag! Where we can admire each others work, give feedback and support. Where we can laugh or cry together with fellow makers who understand our highest euphoria and our deepest misery …
Realizing that a Facebook page is not the best place for all of us to share our freeform creations and discussions, I created a group page instead.
The interest in crochet and freeform crochet has increased worldwide as people realize how beautiful, elaborated, mesmerizing, and creative it can be! And it's practical because it's also a great way to use up leftover yarns and other bits and pieces.
Freeform crochet is a very creative process. It's not "just" crochet, it's ART! One of a kind creations! Near impossible to even write exact patterns for, or to try to duplicate, not even by the maker.
You can of course take any yarn and make any stitches and make a haphazard fabric, and it can turn out splendid. But for the most part, every stitch and every color change requires some creative thinking. And you can even get stuck by "crocheter's block" … I know, it happens to me all the time!
I hope that the members of the group will share photos of their creations, ask questions as well as reply to others, share links, news and events. Most of all I hope the group can provide inspiration and support to novices like me.
Actually, I'm not such a newbie anymore, but I remember being one … Now I write instructions for others and my emphasis is on making it as clear as possible for a beginner. With lots of photos! Here on the blog I've posted three parts of my Freeform Crochet series, and a fourth one will be posted soon …
Introduction and the Bullion Stitch
This is an open invitation to everybody interested in the amazing Freeform Crochet to come and join us on the Facebook Page and in the Facebook Group! Let's make new friends!
This will be so much fun!
~ Marina
P.S. What do you think of my Coral Reef  ring doily, or is it a wreath? =)
Related posts:
– Freeform Crochet Basics: The Spiral
– Freeform Crochet Basics: The Two Color Spiral
– Freeform Crochet Basics Part 4
– Freeform Crochet Basics 4b: Bigger Spirals
– Freeform Crochet Basics, Part 5. The Nautilus Shell
– Freeform Crochet Spiral Scrumble
– Freeform Crochet: Single Crochet Spiral
– Hump Stitch in Freeform Crochet
More Crochet Patterns: