Freeform CAL by Dada Neon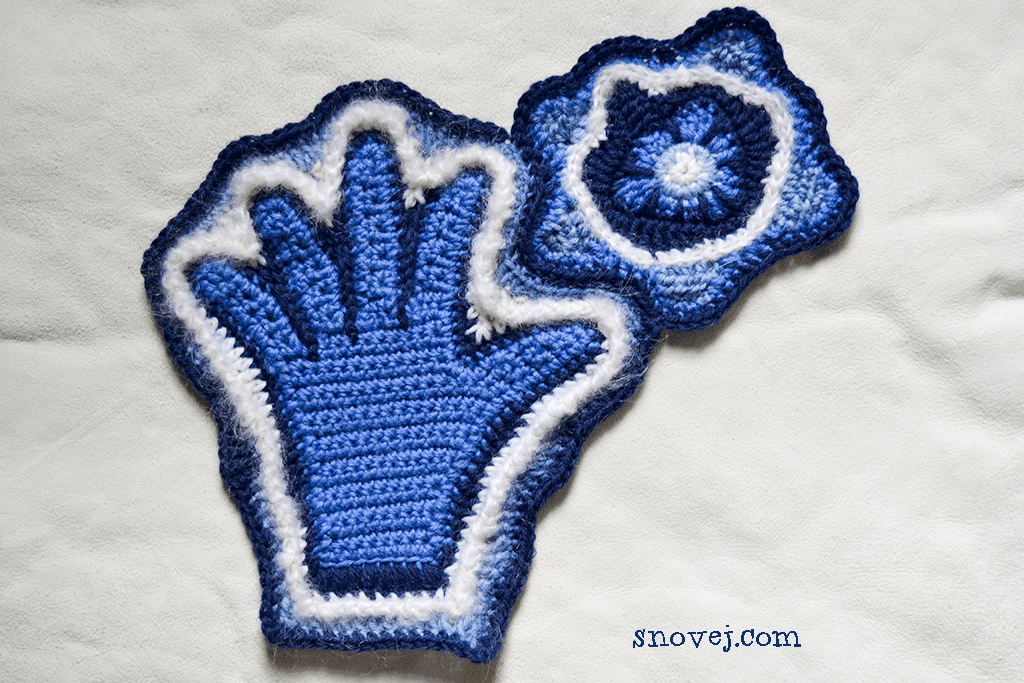 I have a day off! I can do anything I want. Wow!
My husband went to Estonia and I'm home alone!
It's the last day of the long Midsummer weekend here in Finland. (Yes, I'm in Finland again. For the summer.)
After taking a quick glance at my various projects, writings, photo editings and what-nots, I decided to play another kind of game. Today I'll follow orders!
Dada Neon has a Crochet-Along (CAL) going on. I've been following it on Facebook and wishing I had time to join. Well, it's on it's 5th week now and I better join if I want to catch up.
I have a stash of colorful woolen sock yarns perfect for this. It's a Finnish yarn, heavier than most sock yarns. It's called Seven Brothers (Seitsemän Veljestä) by Novita. I'm using a 4 mm hook.
Here we go!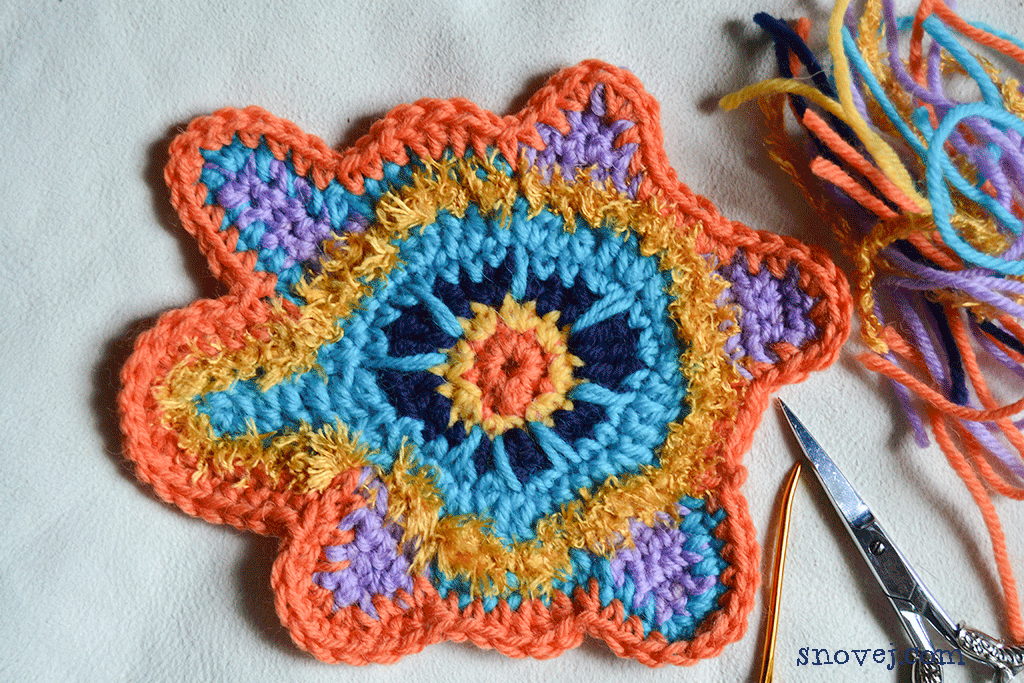 My first piece made with directions in Week 1.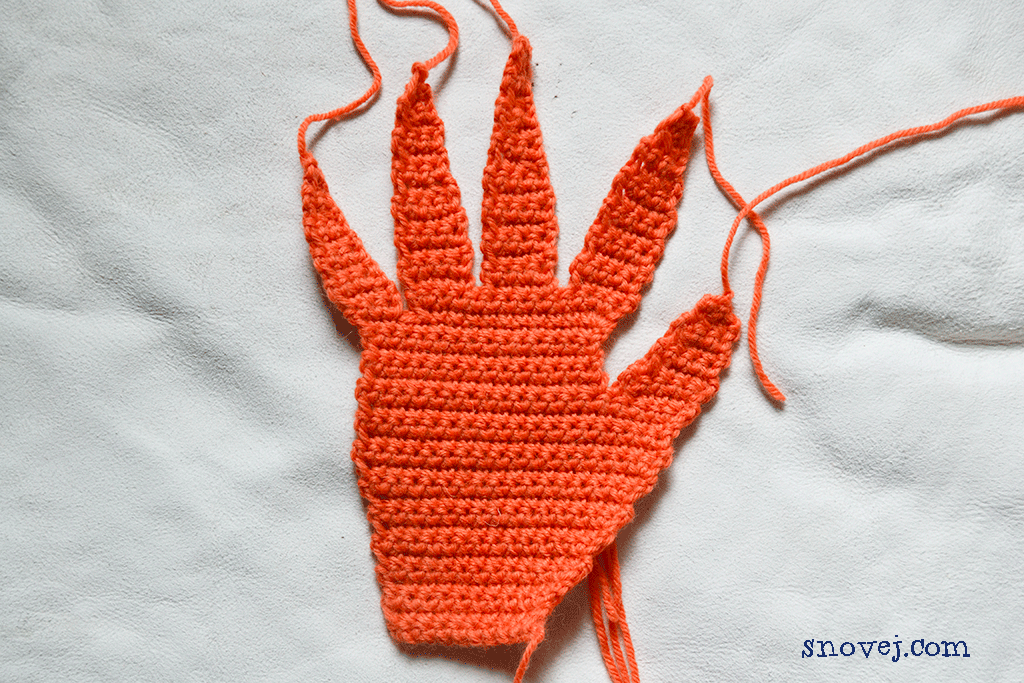 In Week 2 Dada neon wants us to crochet a hand.
Slip stitching around the hand was tedious, so I changed to single crochet. Good thing I left a space of one stitch between the fingers, or they would have overlapped.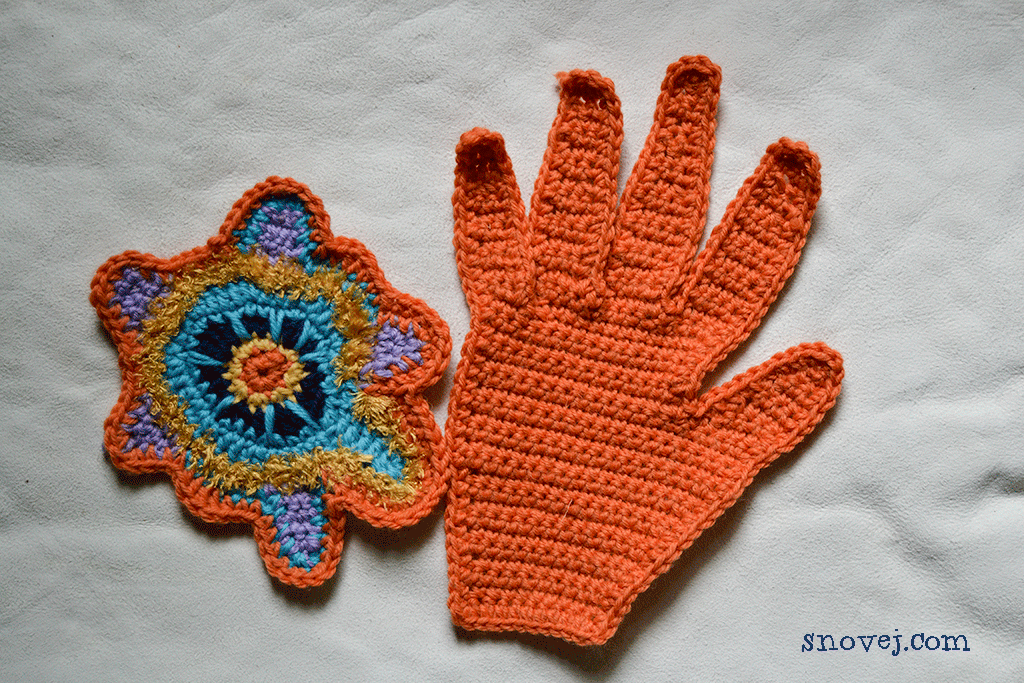 Both scrumbles side by side.
But, but, but! My hand turned out way too big! I should have made it smaller than the template I drew around my hand since the pencil goes around a bit further from my actual hand.
I decided to redo the hand. I don't want it to be too big and maybe overwhelm the project.
I also decided to change the color scheme in order to make my CAL into a pillow for a friend of mine. She collects blue and white china, and I envisioned my CAL to resemble that. It would look awesome on her dark blue sofa.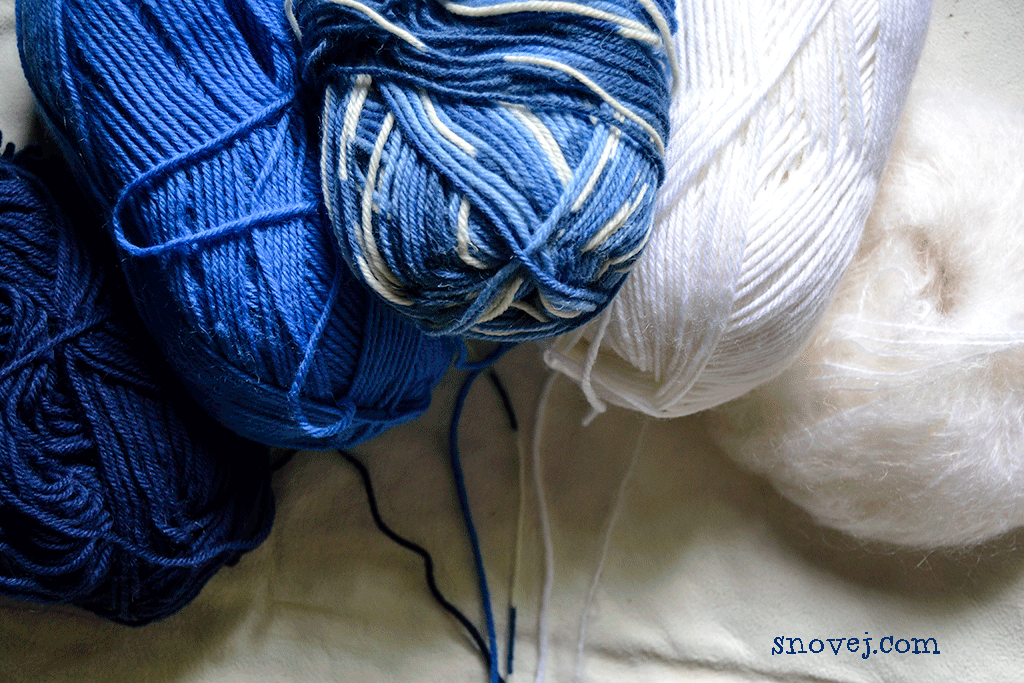 My new color scheme: dark blue, blue, blue-light blues-white variegated, white, and a white fluffy mohair.
Here's my second Week 1 scrumble: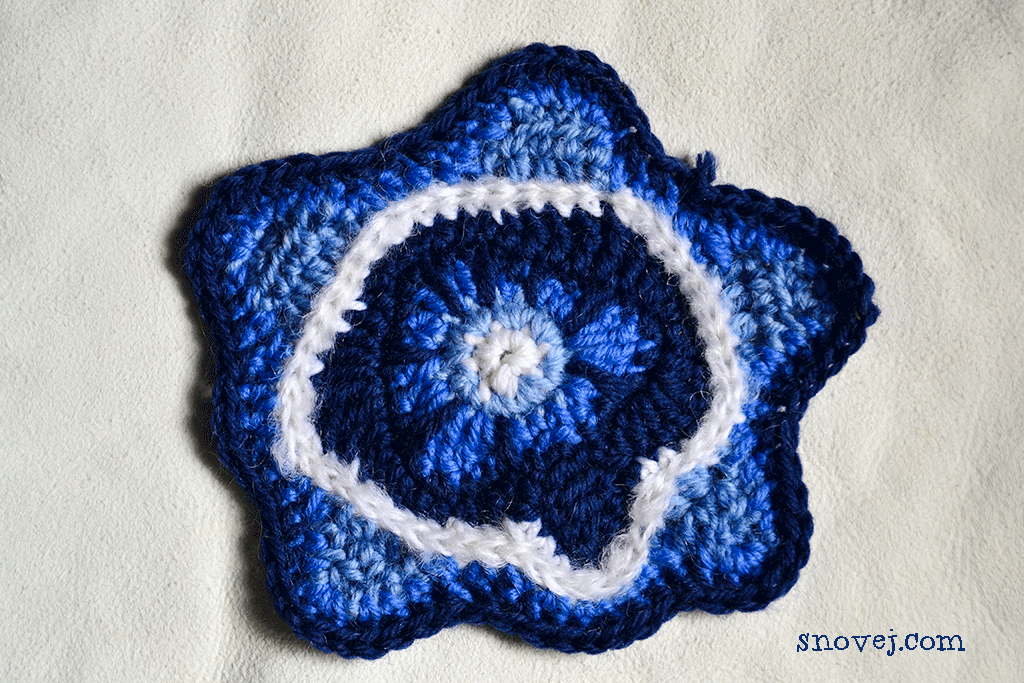 And my second Week 2 hand on top the first hand: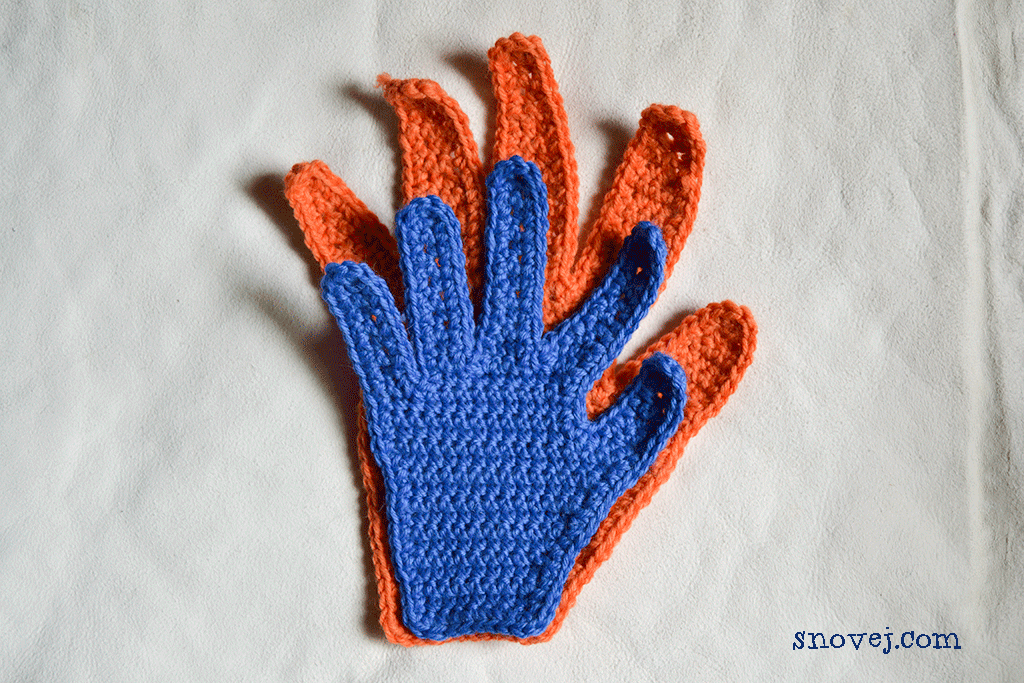 My white fluffy yarn is not as fluffy as I would like. In the first scrumble I top slip stitched over the white round. The fluff is barely visible!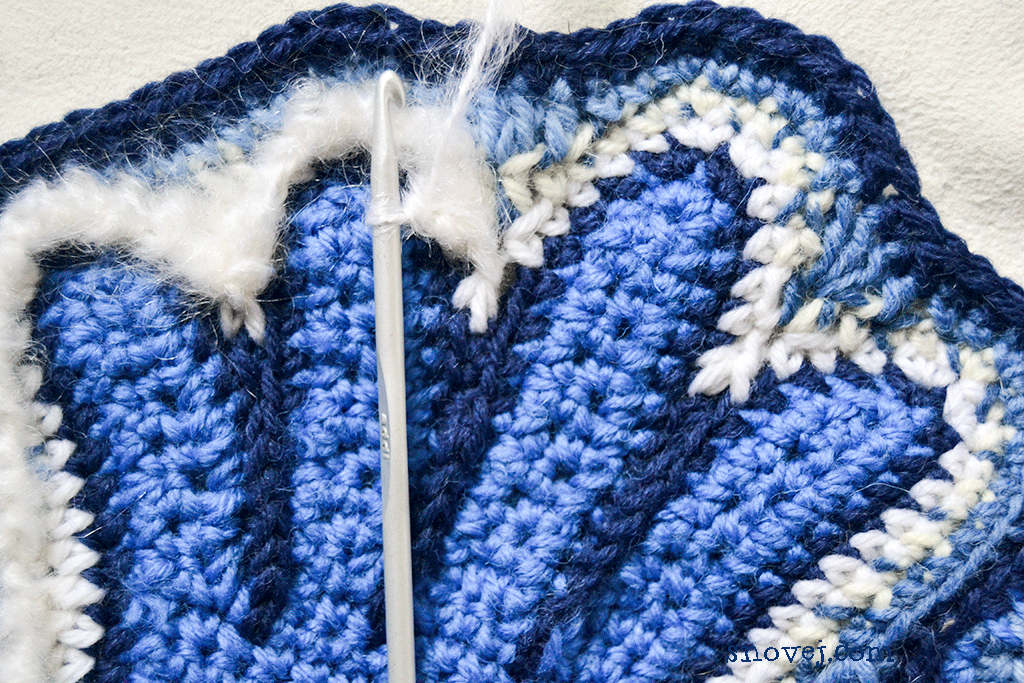 On the second scrumble I decided to reverse single crochet (crab stitch) over the white round. It does stand out now! But it was picky to pick up the foundation stitches since I went through where ever I managed …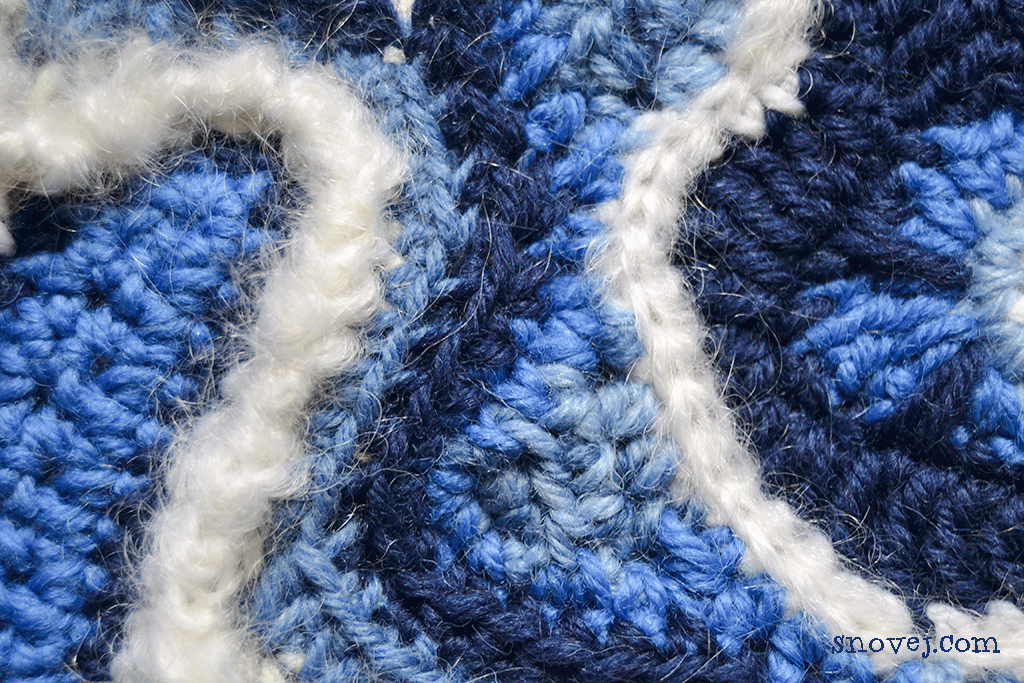 Here you can compare the top stitches. Reverse single crochet, a.k.a. Crab Stitch, to the left. Slip stitch to the right.
Oh my! Dada Neon tells me to use a green fluffy yarn to create grass! I have noooo green! But I have a blue as well as a light blue fluffy novelty yarn. Will either one work?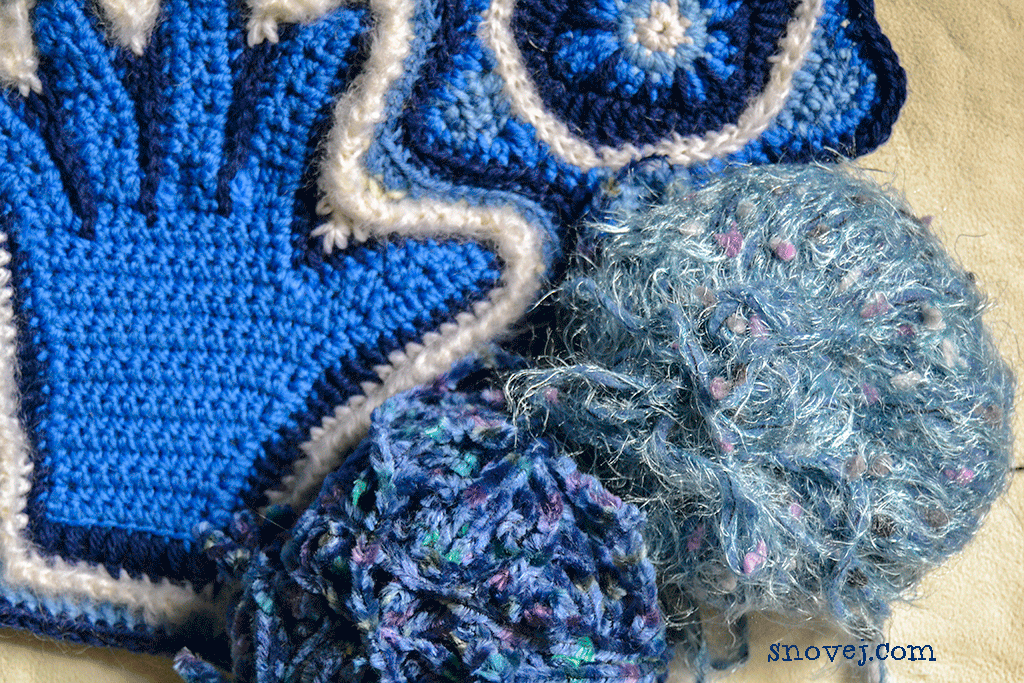 Now. Which fluffy yarn to use? Or, I could use the wool yarn and make chain loops to resemble grass, or I could use another stitch. Or, I could just use single crochet and embroider "rya" stitches. They would definitely look like grass.
Oh, the possibilities! What shall I do???
Sigh! My free day is over and it's time to go to bed! Seems I couldn't catch up in just one day!
I'll take some time off tomorrow!
Oh, no! Dada Neon just posted instructions for Week 6!
Gotta go, go , go, … And you can go to Dada Neon's site and join the CAL!
~ Marina