Chocolate Rocky Mountain Cake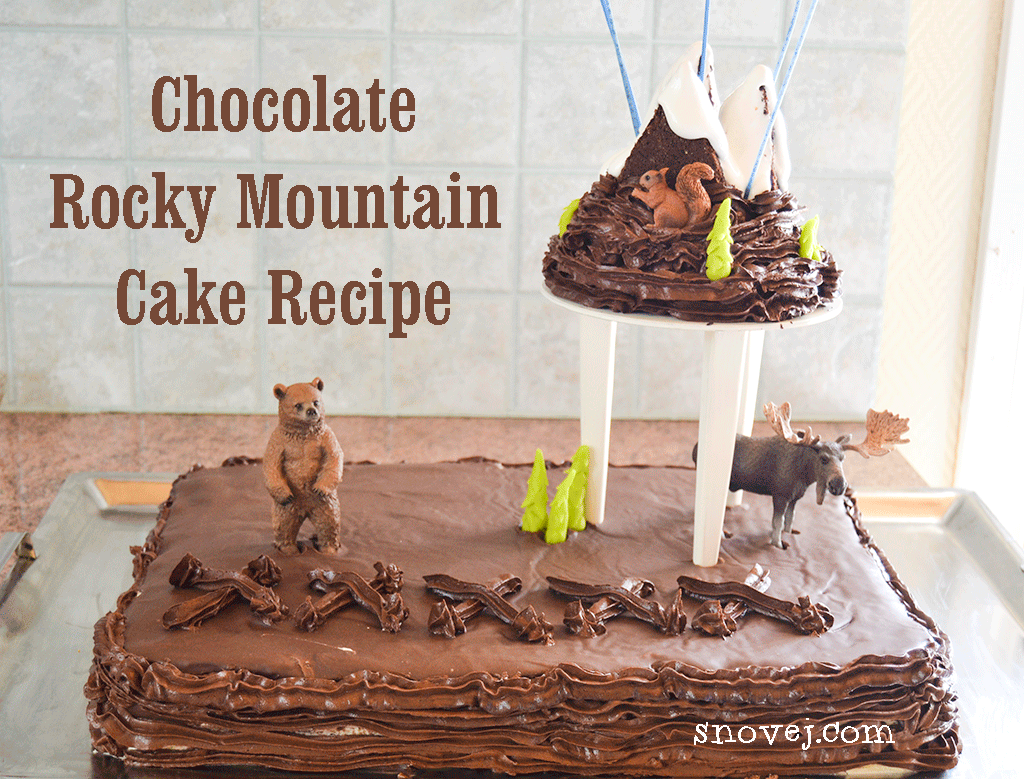 My daughter asked me to bake a cake for her husband's birthday party last week. She had decided to have a surprise garden party for him at a small community hall/museum close to her home here in Finland.
The theme for the party was America. Appropriate since it was held just one day after 4th of July. But mostly because my son-in-law has a dream to travel to the Rocky Mountains one day. Therefore also the cake had to be an American cake.
Cakes in Finland are often made of a white/sponge like cake filled with pudding, whipped cream, berries, and/or fruit, topped with whipped cream and more berries/fruit. This is the kind of cake I normally make. My recipe for it is here.
I've only made an American cake once before. Five years ago. When I went looking for the recipes, they were no longer online! Sigh!!! Should have written them down since that cake was delicious!
I wanted the cake to look like a mountain and I had some vague ideas about coloring the frosting gray, making a blue lake/river, and a green forest.
After spending hours online searching for new recipes, I decided on a white vanilla cake with chocolate Ganache and chocolate buttercream, and a chocolate cake for the mountain.
This cake is huge!
It's 14" by 17" (36 cm x 43 cm)! We had 30 people at the party. They managed to eat only one third of the cake! I just had my last piece, four days later. It was still yummy!
You can of course make your cake smaller!
Vanilla White Cake
I found the recipe in an email sent to me five years ago. I used the old recipe, but I mixed it in a different way that seemed faster. Instead of starting by creaming butter and sugar, I mixed the dry ingredients, then added the butter, and finally the mixed wet ingredients.
Here's a video by Artisan Cake Company showing the method. They use a different recipe that looks great too!
The "old" recipe makes a batter for one cake in a 9" by 13" (23 cm x 33 cm) pan. I baked six! Each cake becomes half of one layer. The cakes are not cut in half.
This is my "old" recipe:
6 tbsp soft butter
¾ cup sugar
½ tsp vanilla
1 egg
1 cup + 2 tbsp all-purpose flour
1 ½ tsp baking powder
½ tsp salt
⅔ cups milk
Use a Kitchen Aid type mixer with a K hook. Start by sifting all dry ingredients into the bowl. Mix on slow. Add the soft butter. Mix until grainy. Whisk together the wet ingredients and slowly add them to the bowl while running the machine.
Prepare the pan. I use the Finnish method of brushing the pan with melted butter, then adding bread crumbs and twirling them around to evenly coat the pan. Give it a try!
Pour the batter into the pan. Even it out. Bake in 350 F (175 C) for about 20-25 minutes.
Hershey's "Perfectly Perfect" Chocolate Cake
For the mountain I used this chocolate cake recipe. Here's a video recipe by Serious Cakes. I only used about half of the cake. 
Sift into bowl of mixer:
¾ cup cocoa powder
2 cups sugar
1 ¾ cup all-purpose flour
1 ½ tsp baking powder
1 tsp salt
In another bowl, or measuring cup, add the following, no need to mix:
1 cup milk
½ cup oil
2 large eggs
2 tsp vanilla
Slowly add the wet ingredients to dry ingredients with the machine running on low. When it's all incorporated, add:
1 cup boiling water!
The batter will be thin. Pour into prepared pans. There's enough batter for three 9" pans.
Buttercream
I found an easy recipe, and it's delicious! By Cupcake Emporium in England. Watch it being made! I only needed to make one batch for my huge cake.
8.8 oz (250 g) soft butter
1 ½ cup (380 g) confectioner's sugar (icing sugar)
1 cup (250 g) cocoa powder
Add soft butter to mixing bowl, then the confectioner's sugar and the cocoa. Mix with a K hook, first on low and speeding it up.
Simple Chocolate Ganache
This is so easy to make, and so tasty! A recipe by Cookies Cupcakes and Cardio.
Look for yourself how easy it is! I made two batches, one for each layer.
⅔ cup whipping cream
1 tbsp butter
1 ¼ cup (8 oz) chocolate chips (I used a dark chocolate bar, about 180 g)
Heat the cream to close to boiling. Take off heat. Add butter and chocolate. Let chocolate melt a bit, then start stirring until it turns into a dark chocolate sauce.
Chocolate Royal Icing
I didn't find any chocolate icing recipe. Instead I used a recipe by Charlene Dy of MyRecipes.com. I omitted the last cup of confectioner's sugar and added 1 cup cocoa powder instead! The video recipe is here. One batch was just perfect to cover the top of the flat cake.
3 egg whites
4 cups confectioner's sugar
1 cup cocoa powder
Mix egg whites until foamy, about 2 minutes. Add confectioner's sugar in batches, scraping down the sides of the bowl a couple of times. Add cocoa powder. Mix 7-10 minutes. Add water if the icing is too thick.
Assembly
You need a big tray for this! The inner measurements of my big metal tray are 15" by 23" (38 cm x 58 cm). The cake, with the buttercream around, was about 14" by 17" (36 cm x 43 cm).
My cake is made of six pieces. Three cakes on top of each other next to another three cakes on top of each other. With buttercream and Ganache in between.
1) Bake cakes. Let cool.
2) Make buttercream. Fill a piping bag. Use a tip you want to use for decorating.
3) Place two cakes side by side on the tray/platter. Glue them together by first pulling one cake a bit away from the other, then piping buttercream on the side of the un-moved cake (just on the side facing the other cake). Gently push the other cake back, right into the buttercream.
4) Make a wall on top of the cake, along the edges, and also straight over the "glued" joint.
5) Make Ganache. Spread it over the cake, inside the buttercream walls.
6) Add the second layer on top of the first layer by laying down one cake, adding a row of buttercream to the side that's inside the cake, then placing down one more cake.
7) Repeat steps 4 and 5.
8) Add the last layer by repeating step 6.
9) To "glue" down any crumbs, cover the cake with a thin layer of buttercream using a spatula.
10) Make Chocolate Royal Icing. Spread on top of the cake.
11) Using the piping bag, cover the sides of the cake with buttercream. I made "log" shapes. Easy!
12) Assemble the mountain. I used a wooden top tray from a three tier cake stand. You don't need a separate tray for the mountain. I did because I wanted to be able to remove it in order for the birthday boy to take it home to enjoy later.
The stand is a bit tall. My first idea was to make an A-line skirt from cardboard to cover up the legs, and to make the mountain start from the flat cake, and then cover the cardboard and the chocolate cake with gray marzipan. I didn't have time to make the skirt, so i don't know if it would have worked out. I do like the way it turned out, with the moose under the mountain.
To make round shapes I used found round objects in my kitchen. A plate for the first layer, and a smaller big tea cup for the next. Then I cut freehand three tall triangle shapes for the mountain tops.
Smear a bit of butter cream on the cake stand. Place the biggest piece in the center. Spread with buttercream on top. Add the second layer. Spread generously with buttercream.
Gently push down the mountain tops into the buttercream.
Pipe buttercream around the sides, and a bit between the tops.
Make snow on the tops using Marshmallow Fluff.
The cake looks now like a mountain cake, but you might want to add more to it. After all, the decorating is the most fun part. Besides eating it!
Decorations
Decorate your cake any way you wish. I had a vision of a lake and a canoe, maybe even a small tipi. Here's my ideas:
A) Make trees of green marzipan or almond paste. Roll out a log, about ½ inch thick. Cut a short length, about 1-2″ long. Roll one end into a cone shape. To make branches, make small cuts with small scissors, pointing the scissors upward along the cone.
B) Make a lake/river with blue colored buttercream, or make a riverbed with buttercream, then fill it with blue jello, maybe even using blueberries topped with jello.
C) Decorate with forest animals. We have a bear, a moose, and a squirrel!
D) Add candles!
E) Write a name and a number. I only added crisscrossed buttercream "logs" for kisses …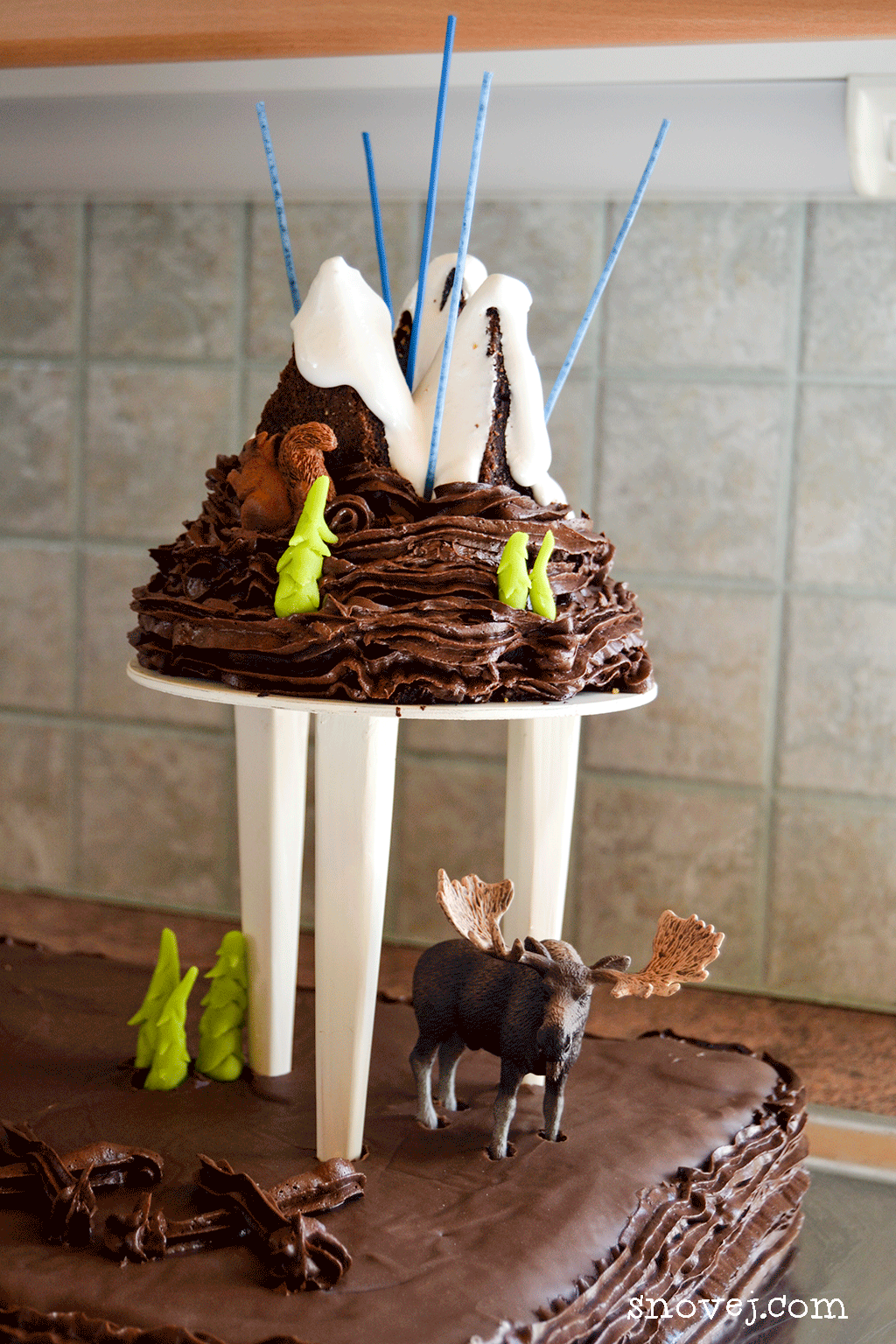 Did I mention the cake was a huge success?!! Several guests asked for a piece to take home … =)
~ Marina
P.S. Don't want to do a lot of baking? Order a flat cake with chocolate frosting and bake only the cake for the mountain. Or, assemble the mountain from bought brownies and only make the delicious chocolate buttercream!