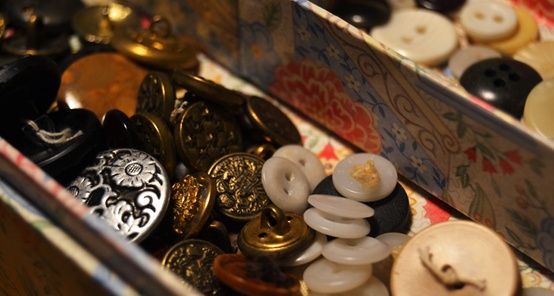 "Every button has a story. Every button is a tiny piece of history: a moment in time you can hold in your hand." – Pam Vasilow (button collector)
I love buttons. I collect them. Buttons are more or less the only collection I have if you don't count my arts and crafts materials. Never mind my trash collection… More on that later.
I started collecting buttons by accident in the mid '90s. A friend of mine gave me a bag of her grandmother's buttons to use for my crafting. The buttons were so pretty and interesting that I couldn't use them up. I decided to make a display of them instead, but of course that never happened. (At least not yet.)
But I found more old buttons and so the collection grew. Mostly I found them among sewing stuff at flea markets and yard sales. I also found them on old clothing that I bought just for the buttons.
I realized I had a lot of interesting history hiding in my button box. I just had to know more. Who made them? What were they made of? Did they have a specific purpose? Did the patterns or logos on them mean something special? An old button made me think of the time when it was new. How was life then, who sewed the button on, who wore the garment?