Snovej Circle 5/2015: Pinterest Guide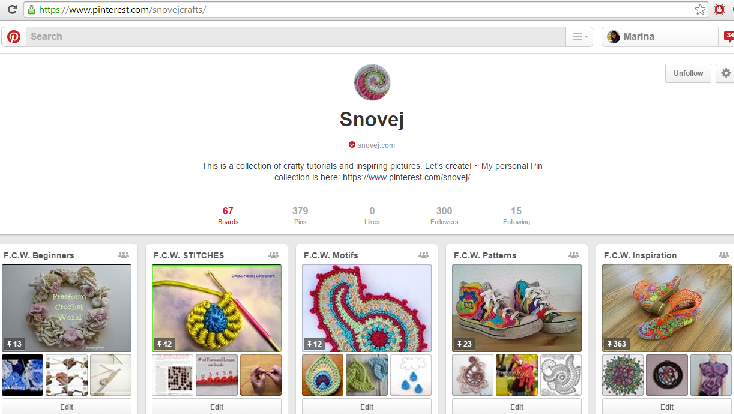 This past week I've been updating my Pinterest boards. Since I have too many interests in too many things, my boards had become pretty messed up. Mostly I wanted all the craft boards to be separated from my personal boards …
How often have you found something interesting online and bookmarked it? How often have you looked at your bookmarks wondering which link goes to the site you're looking for? If you already have an account on Pinterest, the neverending list of unknown links in your bookmarks is just a faint memory from the past.
Pinterest is an online social network that works as a place to not only collect the links you want to save, but collects them with photos so you easily can find what you're looking for, as well as for you to share these links and see cool things others have "pinned".
Pinterest describes itself as a virtual bulletin board where you can "pin" pictures of things you like. Every picture contains a link to the site the picture is taken from. This is the way to to bookmark stuff! With a picture so you can see what the link is all about!
You create "boards" on your "bulletin board" in order to organize your links in a way that makes sense to you. For instance, you can have one board called "Crafts" and pin all your crafty finds there, or you could make several boards for different kinds of craft. It's up to you how you want it.
Just be aware that one board with hundreds of pictures will become a bit cumbersome to scroll through. The more specific you can be with the categories, the easier it will be for you to later find the link you're looking for!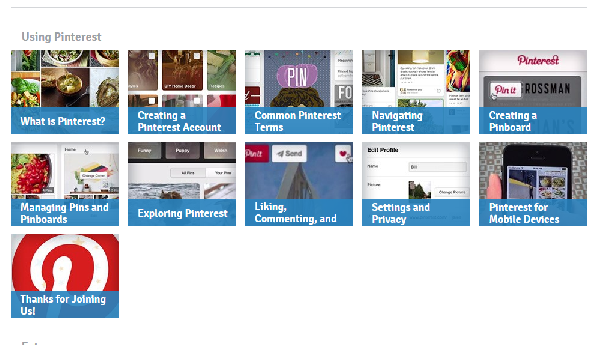 Everything you need to know about using Pinterest is found in these excellent tutorials. Click here!
Pinterest is an open network. You don't need to send friend requests. You don't even need an account with Pinterest in order to look at boards and click on links.
What you do is click "Follow" a person who pins things you like, or you click "Follow Board" for a specific board that you want to follow. You can pin pins by others. That's the point of sharing the links! You can also just "Like" a link and these "likes" will be in a special list you can check later if you wish.
Pins by the people or boards you follow will be shown in your newsfeed. That's the best place for discovering cool things! Your newsfeed is the first thing you will see when you go to your Pinterest account. You can also search Pinterest for things you want to find. Many online searches will actually lead you to Pinterest. That's how popular it has become!
One good thing about the pins is that they will stay even after their original site or posting is taken down. You won't lose the idea the picture is about, but you'll lose the information on the original site. So if you find something really cool, you better print it out.
Now-a-days there's also "Secret Boards". These boards can only be seen by you and the people you have invited to share that board. In these secret boards you can save links to things like a surprise party, gifts you want to get or make, or anything that you do not want your friends to know about.
Once you have an account it's easy to get too eager with the pinning. Don't just pin a link you see on Pinterest. Open the link and see where it takes you. Many pins lead to sites that link to another site that link to the original site! In most cases you want to link to the original site. If the photo has a dead link, but you want to save it anyway, then make a comment about it before pinning.
Anna has written an excellent article about how to control your Pinterest habit. She gives you good advice on how to be a good "pinner"!
Be a mindful pinner. Pinterest is an awesome tool. Use it, but don't let it become a mess! Be aware of what you pin, and know that all those gorgeous tutorials and recipes you find might not actually work …
I am working on reorganizing my pins. In order to do that, I opened a second account, a so-called business account for this blog. The business account gives me somewhat more information about how my pins are repinned and how often my boards are looked at. I wanted the new account to give me more room for having only craft related boards in one place. I wish I could have sub-boards within a board, or that the pins on a board could be arranged alphabetically!
Many of you are following me on, what is now, my personal Pinterest. I have removed the craft boards to the new account, but they can still be seen under the old one. Except they're new boards, so if you have followed any specific craft boards I had, I'm sorry to say those boards are now gone. I urge you to go to the new account to see all my pins about crafting!
Marina's personal Pinterest Bulletin Board: https://www.pinterest.com/snovej/
Snovej Crafts Pinterest Bulletin Board: https://www.pinterest.com/snovejcrafts/
On Snovej's account there's a few boards called F.C.W., which stands for Freeform Crochet World. These are different boards about freeform crochet and they're boards for our Facebook group. Any member of the group can request to become a member of these boards. That means that the boards will be added to your account and you can add pins to them. Only you can remove pins, so try to check that the link you want to add is not already added. There's no need to crowd the boards with multiples!
I spent hours "cleaning house", and there are hours of work still to be done. So do make your boards as specific as you need in order to easily know where to go. It can be difficult to determine how to archive a link. A pretty purple flower could be pinned to Flowers, or Purple, or Freeform Crochet Inspiration, or whatever. So think about how you want to use the link in the future. Write your idea in the comment section before pinning it so you know what you were thinking at the time!
I recommend you choose to follow my accounts, not a specific board. I'm still going to remove some boards and add new ones as I'm trying to archive the links as good as I can. I also have tons of links I haven't posted yet because I haven't had the time to check them out. Expect new stuff as I continue this work.
In just a few hours I will be flying to Finland; home to my husband, my kitties, my house, and my big craft room with so many delicious WIPs waiting for me!
There's also a new laptop waiting! I'll once again be able to upload photos from my camera, do editing, and write new patterns! Yay!!!
And once again I'm bound to go trekking the long, long way from east to the other east. Sigh! I feel like the legendary prophet, except I'm running to mountain after mountain. I'm so ready to just be him and sit down and have the mountains come to me …
~ Marina