School House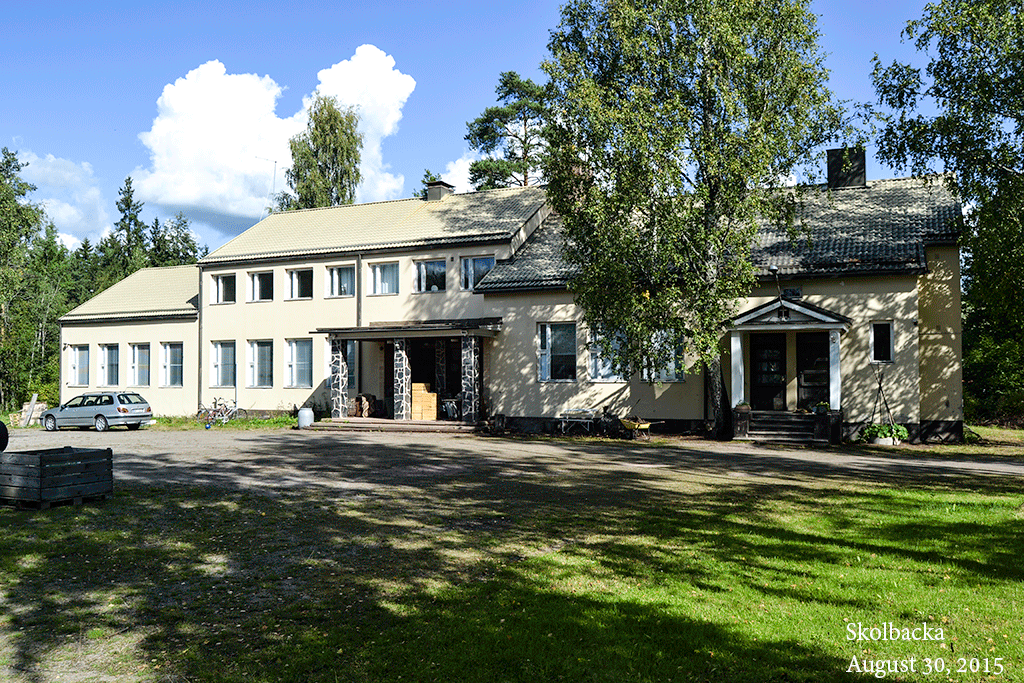 I have great news, and as a crafter I'm thrilled beyond words! Kal and I have acquired a school house!
I wrote the first sentence in this post a year ago. Even the photo is from last summer. But I'm still thrilled! The crafter in me sees so many possibilities with all the empty space and the high walls are awesome for displaying even huge creations! I have so much fun to share and this is just a short update to get me going again after a long pause. Time to get over the blogger's block!
2015 turned out to be the craziest and most wonderful year ever! So many great things happened, I barely could keep track of everything. The fast-forward-pace really kicked in in early spring. Everybody in my closest family moved. New homes in new towns, and new jobs and studies. One daughter even changed continents! Even the daughter that didn't move from her house, moved inside of her house.
And Kal and I moved!
Our move was slow and nerve wrecking. To be, or not to be! That was the question. For our food business we had rented the kitchen in a closed down school house owned by the town. The house itself was put up for sale just a couple of months after we rented the kitchen. That led us to not put as much effort into our food business as we could have done, not knowing how long we would be able to use the kitchen.
Kal is in the town council. Two years after the for sale sign went up, he told the town manager that he should just give the town an offer on the house. She eagerly grabbed a pencil and wrote it down on a note paper and the matter was discussed at the next meeting. It was approved and moved on to other meetings until it finally reached the top deciders in the summer. And approved once again. But the signing of the deal was postponed to happen after the summer vacations. Finally in mid August the house became ours! That was over a year ago.
I'm still unpacking!
The house was built in 1937, and a larger addition in 1952. It's made of brick, even the interior walls are made of brick, covered in plaster. It has concrete floors, many covered with stone. Originally it had three class rooms. One is now divided into three rooms. That's where we have the office. The other two, and a hall way, have been rebuilt into eight bedrooms, two and a half large bathrooms, and a big, long living room. We call it the North Hall. It was rebuilt to house a children's home for troubled teens. It didn't work out and the home went bankrupt, moved out, and we were able to rent the kitchen.
I wish we had the big class rooms still. We could have done so much more with the big spaces. Now we have bed rooms, so our options are limited. We don't have time for a Bed & Breakfast. Instead we call it the village guest rooms, and have already had paying customers, as well as our daughters visiting and using that space. The former lunch room is now our cafe and small local foods store.
Upstairs we have three apartments and two large attics. Kal and I moved into the biggest apartment, the smallest we call The Class Room because it has a huge blackboard and school desks. The children's home used it for homeschooling. I don't have classes there, but I have all my crafting things there. The ones not related to fabric and yarn.
Our apartment doesn't need a living room, instead we use rooms downstairs. Therefore I conquered the big room (Yay!!) and declared it my Craft Room, actually it's more of a sewing room. It's so big I first didn't know how to furnish it. By now I've played around and found a practical solution.
The third apartment is vacant and in need of some TLC. Now we use it as a club room for our Haunted House event.
Yes! We are having our second annual Haunted House open for the public! We decorate the whole house and all of the upstairs is a haunted tour with kids … errr, monsters … spooking visitors.
So that's what we've decided to do with our almost 11,000 square feet. Events! As well as clubs and courses!
Now I'm busy making spooky sets and props. And writing up my Haunted House tutorials. Stay tuned!
Marina
P.S. Everybody called our house The Old New School. Sigh! Not a name I wanted for my home. When the town gave us the blueprints we discovered that the lot is called Skolbacka, which translates to "school hill". Yes! Our home is now Skolbacka. You can find it on Facebook here!